Israel blames Gaza flotilla deaths on activists
(Read article summary)
Israel blamed the violence on the mostly Turkish and European activists aboard the Gaza flotilla, saying its naval troops were attacked with knives, clubs, and gunfire when they boarded some of the ships.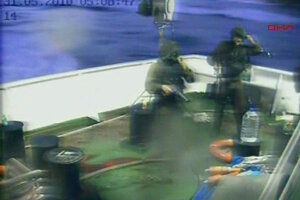 IHH/AP
• A daily summary of global reports on security issues.
Israeli forces intercepted an international aid flotilla headed for Gaza early Monday, roping onto the boats by helicopter and killing more than 10 people and injuring dozens.
The Gaza flotilla, led by a group of mostly European and Turkish activists, had been heading for a showdown with Israel, which had made clear it would not allow the six ships to break its blockade of Gaza to bring humanitarian and building supplies to the coastal enclave.
But the violent and bloody confrontation was unexpected, and will likely have serious consequences on Israel's already-strained relations with Turkey. It has already provoked international condemnation, and comes just before Israeli Prime Minister Benjamin Netanyahu was scheduled to visit the White House on Tuesday. Some Israeli media reported he would now delay that visit.
A Turkish charity involved with the flotilla said as many as 15 people were killed, mostly Turkish citizens, according to Agence France-Presse. Palestinian news agency Ma'an reported that five of the dead were Israeli Arabs from Haifa. The Israeli military said four commandos had been wounded. Israeli commandos boarded the ships by helicopter in international waters after ordering the flotilla to stop about 80 miles from the coast of Gaza.
---