Drone strike reportedly killed Al Qaeda No. 3 Mustafa Abu al-Yazid
(Read article summary)
Al Qaeda's central leadership says it lost Mustafa Abu al-Yazid, a founding member of the group, in a May 22 drone strike in Pakistan's tribal area.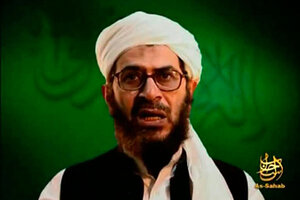 Reuters/File
• A daily summary of global reports on security issues.
A militant website on Monday reported that Al Qaeda's No. 3 leader and top commander in Afghanistan, Mustafa Abu al-Yazid, has been killed.
US and Pakistani security officials believe that Mr. Yazid, along with members of his family, was killed May 21 by an American drone attack in Pakistan's tribal areas.
While Yazid's death is being claimed as a counterterrorism victory, analysts say that Al Qaeda is quick to appoint successors to key posts.
According to the Financial Times, Yazid's death was confirmed by Al Qaeda:
A statement issued by al-Qaeda's media wing announced that Mr Yazid had been killed, according to the SITE Intelligence Group, which monitors jihadist websites.

"His death will only be a severe curse by his life upon the infidels," the statement said. "The response is near."

US counter-terrorism officials see Mr Yazid's apparent death as a victory, although al- Qaeda has succeeded in replacing a number of previous holders of its number-three slot killed by the CIA.
---