Jim Webb cancels Burma visit after report claims junta 'planning nuclear bomb'
(Read article summary)
US Sen. Jim Webb canceled his June 3 visit to Burma following a report on the claims of a high-level defector that the junta is mining uranium and working with North Korea to develop a nuclear bomb.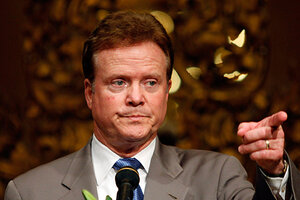 Chaiwat Subprasom/Reuters
• A daily summary of global reports on security issues.
After years of concern that Burma (Myanmar) has been developing nuclear weapons in tandem with North Korea, a top US nuclear scientist has produced a new report that appears to validate evidence of such a program divulged by a Burmese defector. If substantiated, it could pose new roadblocks just as Burma appeared to be warming up to the West.
Already, the report has led Sen. Jim Webb (D-Va.), chairman of the US Senate foreign relations subcommittee on east Asia and Pacific affairs, to cancel his planned June 3 visit to Burma.
Sai Thein Win, a former major in the Burmese army, claims to have smuggled out secret memos, equipment orders, sketches, and photographs from secret facilities near the towns of Thabeikkyin and Myaing. One memo requests a "bomb reactor" for the "special substance production research department." One photo shows "bomb reactors" likely used to convert uranium compounds into uranium metal for bomb or nuclear reactor fuel.
---