Gaza blockade: Israel deports activists from the Rachel Corrie aid ship
(Read article summary)
In stark contrast to Israel's deadly Gaza flotilla raid last week, no activists aboard the Gaza-bound Rachel Corrie humanitarian ship were killed. Israel began deporting the activists on Sunday.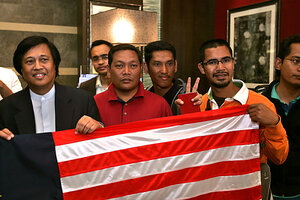 Muhammad Hamed/Reuters
• A daily summary of global reports on security issues.
Israel began deporting activists from the Rachel Corrie on Sunday after boarding the ship trying to break the Israeli blockade of Gaza and forcing it to the Israeli port of Ashdod.
The Rachel Corrie set out for Gaza after nine activists were killed Monday when Israel raided an aid-laden flotilla headed for the impoverished Palestinian territory.
This time, no one was killed or injured when Israeli commandos boarded the ship and took its crew and activists into custody. But last week's incident continues to have far-reaching consequences as thousands protest Israel's actions across the world, and Turkey threatens to cut relations with Israel.
IN PICTURES: The Gaza flotilla and the aftermath of the Israeli naval raid
Al Jazeera reports that Israel has begun deporting the 19 activists and crew members arrested on the Rachel Corrie Saturday. Six of the Malaysian crew members were released into Jordan, and a Cuban activist injured in the boarding of the Mavi Mamara last week was also released.
---