New Jersey men arrested at JFK on way to join Al Shabab in Somalia
(Read article summary)
The two New Jersey men arrested en route to Somalia to join the Al Qaeda-linked Al Shabab insurgency share at least one trait with other American jihadis: inspiration from Yemen-based US cleric Anwar al-Awlaki.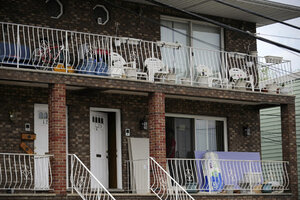 Amy Newman/The Record/MCT/Newscom
• A daily summary of global reports on security issues.
Police arrested two New Jersey men at New York's John F. Kennedy International Airport on Saturday as they prepared to travel to Somalia to join a militant group with the aim of killing American soldiers. They are the latest case of a phenomenon that officials find troubling: US citizens drawn to anti-American jihad.
The Star-Ledger of Newark, New Jersey, identifies the two men as Mohamed Mahmood Alessa, 20, a US citizen of Palestinian descent, and Carlos Eduardo "Omar" Almonte, 24, a naturalized US citizen who was born in the Dominican Republic. They were arrested at the airport as each prepared to board separate flights for Egypt, from where they planned to make their way to Somalia.
The two men appear to have been amateurs, and spent months before their arrest lifting weights, shopping for military-style outfits, playing shoot-'em-up video games, and bragging about their intentions to undercover cops, according to the Associated Press (details of their routine found here.)
---