Iran bars two UN weapons inspectors for spreading 'false information'
(Read article summary)
Iran says two United Nations weapons inspectors spread false information about Tehran's nuclear program, and both are now unwelcome. Analysts see it as a reaction to the newest round of UN sanctions on Iran.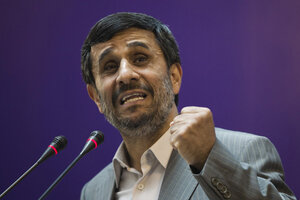 REUTERS/Morteza Nikoubazl
• A daily summary of global reports on security issues.
Iran has barred two United Nations weapons inspectors from entering the country because, Tehran alleges, they filed false reports on its nuclear program.
The defiant move could renew international tensions over Iran's program. Tehran insists the program is for civilian energy and research purposes but the US, Israel, and others suspect its aim is to produce nuclear weapons. (See a map of Iran's suspected nuclear facilities from Agence France-Presse.)
"We called for banning their arrival in Iran for inspection, since they have also disclosed information before it had been examined officially and they had provided media with false information on Iran's nuclear work," Ali Akbar Salehi, head of the Atomic Energy Organization of Iran (AEOI), said in a report posted on the website of Iran's official ISNA news agency. He did not identify the UN inspectors.
---