Black Bloc tactics mar Canada's G-20 summit
(Read article summary)
At this weekend's G-20 summit, small bands of protesters wearing black clothes broke off from the main protests to rampage violently in what is known as Black Bloc tactics.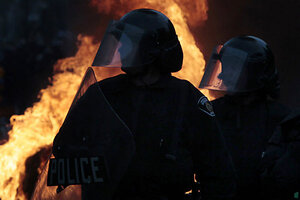 Mark Blinch/Reuters
• A daily summary of global reports on security issues.
Small bands of violent anarchists disrupted larger peaceful protests at the G20 summit in Toronto Saturday, destroying shops and burning police cars. Police said they expect more violence Sunday on the last day of the gathering of the world's wealthiest countries.
Police arrested 412 people Saturday and into the early hours of Sunday morning when peaceful protests turned violent, reports The Canadian Press.
Between 5,000 and 10,000 people gathered to march in protest of the summit, were met by 5,500 police officers. Most were protesting for social causes, and say G20 policies favor the rich at the expense of the poor. But small bands of violent protesters in black clothes and masks broke off from the main protests and rampaged violently through downtown Toronto, reports The Toronto Sun.
The violence came despite the $1 billion price tag for security at the summit, which followed a G8 summit outside Toronto. Violent protests are common at such meetings, but fewer protesters showed up in Toronto than have congregated at previous summits. Nonetheless, some were able to inflict extensive damage by using a tactic known as "Black Bloc."
What is 'Black Bloc'?
---