Thailand's state of emergency is extended, criticized
(Read article summary)
Thailand's state of emergency will continue for another three months, the government decided Tuesday, saying red-shirt protesters remain active. Critics argue the law hinders reconciliation.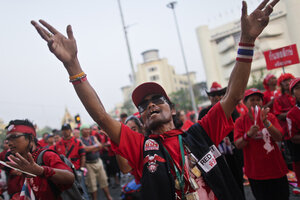 David Longstreath/AP Photo, File
• A daily summary of global reports on security issues.
Thailand's government extended its state of emergency Tuesday by three months over a quarter of the country, several weeks after it broke up protracted demonstrations that had provoked sporadic violence and deeply divided the country.
The cabinet extended the state of emergency in Bangkok and 18 provinces while lifting it in five. It had first imposed the emergency law on April 7, after protesters demanding that the prime minister resign descended on Bangkok.
Rights groups had called for the state of emergency to be ended, but Prime Minister Abhisit Vejjajiva said it was still needed because the protesters, known as red shirts, remained active, reports Agence France-Presse. "The government still needs the tools to ensure peace, order and stability for a while," Mr. Abhisit said.
The state of emergency allows the government to detain people without charge for 30 days, bans public gatherings of more than five people, and gives the prime minister power to overrule other government agencies. Under the law, hundreds of protesters have been arrested, though it is unclear exactly how many. The government has also used the measure to shut down antigovernment television stations, websites, and radio stations, reports AFP.
Thailand is struggling to recover from the bloody crisis. Bouts of violence during the two-month protests killed 88 people, mostly civilians, and wounded about 2,000. The red shirts, drawn mostly from rural and poorer northeast, consider the government illegitimate and had demanded early elections. They paralyzed the capital, camping behind barricades and repelling police efforts to remove them. The standoff ended May 19, when government troops raided their stronghold in downtown Bangkok.
---