Responding to Cheonan warship sinking, US and South Korea confirm war games
(Read article summary)
To show North Korea their strength after it sank the Cheonan warship, the US and South Korea today announced a joint antisubmarine drill. China has objected, citing security concerns.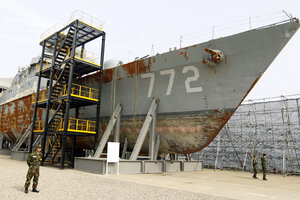 Lee Jae-Won/File/Reuters
• A daily summary of global reports on security issues.
South Korea and the United States will ignore a strong warning from China and go ahead with a joint antisubmarine drill in the Yellow Sea, South Korea's Defense Ministry said Friday.
The exercise is aimed at showing muscle to North Korea after it allegedly torpedoed a South Korean warship on March 26. China does not acknowledge the North's responsibility in the attack on the Cheonan, which killed 46 sailors.
Beijing made an official objection to the war games Thursday, saying they would "undermine China's security interests in the Yellow Sea" and worsen the situation with North Korea. But on Friday South Korea said the exercises, originally planned for June, would proceed, reports Agence France-Presse.
"The date and methods have not yet been decided but the South Korea-US joint military exercise will be carried out," said defence ministry spokesman Won Tae-Jae.

"The joint exercise in the Yellow Sea is being planned as North Korea carried out an illegal provocation, the sinking of the Cheonan." [...]

The drill was originally set for last month but was delayed until the United Nations Security Council wrapped up discussions on the sinking.
---