South Korea begins largest anti-submarine drills ever, despite North Korea threats
(Read article summary)
South Korea has 4,500 service members from all military branches engaged in five days of antisubmarine drills. North Korea has threatened to retaliate.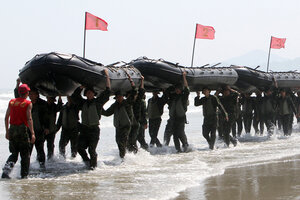 Seo Myeong-gon/Yonhap/AP
• A daily summary of global reports on security issues.
South Korea began a five-day naval exercise Thursday near its disputed maritime border with North Korea in spite of the North's warnings of retaliation.
With 4,500 service members from all four branches of the military, this drill reportedly represents the nation's largest antisubmarine training exercise ever. It is unusual for South Korea to independently conduct exercises of this scope without the involvement of the United States military.
The maneuvers are taking place off the peninsula's west coast where the South Korean warship the Cheonan was sunk in March, killing 46 sailors. A five-nation investigative team concluded in May that a torpedo fired from a North Korean submarine was responsible for the disaster, but so far the North has denied any involvement and refuses to apologize.
With tensions between the North and South steadily rising, the naval exercises represent a show of force that the South hopes will deter any military incursions from the North. The message appears to have resonated with the North, which called the training maneuvers a "direct military invasion" that infringed on the Communist nation's "right to self-defense," reports the BBC.
---