Pakistan floods now worse than 2005 earthquake, say officials
(Read article summary)
Pakistan floods have already affected as many as 12 million people and destroyed or damaged more than 600,000 homes, say Pakistani officials. That's already worse than the 2005 earthquake, but monsoon season is only half over.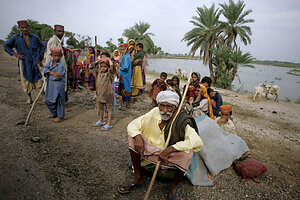 Shakil Adil/AP
• A daily summary of global reports on security issues.
Pakistan troops evacuated thousands overnight as fresh rains added Sunday to the worst floods the country has seen in 80 years. The Pakistan floods have already killed more than 1,600.
Prime Minister Yousuf Raza Gilani said the damage is worse than the devastating 2005 earthquake and appealed for more international aid.
"The government has done everything possible but it is beyond our capacity, we are facing an extremely difficult situation," he told reporters in flooded Sindh province, according to Reuters.
Mr. Gilani said the disaster has already caused billions of rupees worth of damage, according to the Pakistani daily, Dawn.
Britain, France, China, the US, and Australia have already promised tens of millions of dollars in response to the disaster, already so devastating with monsoon season only halfway over and in a country strapped by battling an entrenched Taliban insurgency and frequent attacks on civilians.
As many as 12 million people have been affected by this flooding, according to Pakistani officials, and 650,000 houses destroyed or damaged, while the 2005 earthquake affected 3.2 million and damaged 611,000 homes, according to CNN. (For a map of the flood-affected areas in Pakistan, see here.)
---