Christian NGO identifies killed aid workers, vows to stay in Afghanistan
(Read article summary)
The International Assistance Mission, a Christian organization whose team of 10 aid workers were ambushed by the Taliban on Friday, said the killings would not chase it from the country.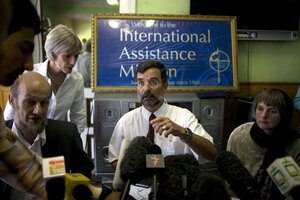 Rodrigo Abd/AP Photo
• A daily summary of global reports on security issues.
The International Assistance Mission (IAM), a Christian group whose 10-member medical team was ambushed by the Taliban on Friday, identified the killed aid workers Monday and pledged to continue in Afghanistan.
But the violent deaths of the group's unarmed medics have highlighted the trend of rising civilian casualties in Afghanistan and is heightening concerns among international aid workers that the Afghan Taliban may try to prevent future relief efforts.
According to The Washington Post, the IAM, which has been operating in Afghanistan for 44 years, has no plans to leave the country:
" 'It's devastating for everybody,' executive director Dirk Frans said of the killings. 'Still, I don't think it's actually going to stop our work. We've been here all those years, and, God willing, we'll continue.'

"The group's 50 foreign volunteers and 500 Afghan staff members operate in seven Afghan provinces, with a program budget of $3.6 million in 2009, according to the annual report."
---