China blast kills seven in restive Xinjiang; Uighur suspected
(Read article summary)
A China blast killing seven people and injuring 14 on Thursday was allegedly carried out by an ethnic Uighur in Xinjiang Province, a site of past unrest.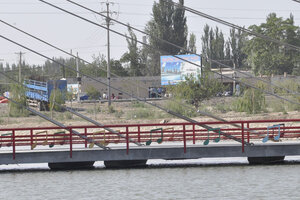 Newscom
• A daily summary of global reports on security issues.
A blast killed seven people and injured 14 in China's simmering western Xinjiang Province on Thursday. Chinese authorities have already arrested a Uighur man who they say drove a three-wheeled vehicle, laden with explosives, into a crowd.
The historically Uighur Muslim area has chafed under state efforts to populate the area with ethnic Han Chinese. Xinjiang was the location of last summer's riots that killed nearly 200 people and injured about 1,700, most of whom were Han, according to the government.
The suspect was apprehended at the scene and local police will treat the explosion as a criminal case, the People's Daily Online reports. The explosion took place in the city of Aksu, which is about 400 miles west of the provincial capital of Urumqi and 37 miles from China's northern border with Kyrgyzstan. (The BBC offers a map of Xinjiang and its neighbors.)
---
Follow Stories Like This
Get the Monitor stories you care about delivered to your inbox.