Spain's separatist ETA offers ceasefire, but the government vows to keep the pressure on
(Read article summary)
Spain's Basque separatist ETA offered a ceasefire, but the Spanish government dismissed the offer, demanding the group lay down its arms as a precondition for peace talks.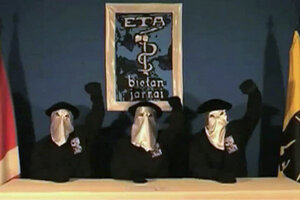 Reuters
• A daily summary of global reports on security issues.
A senior Spanish official Monday dismissed a ceasefire announced by Basque separatist group ETA as "insufficient," saying it does not meet the government's threshold for dialogue with the group.
Government officials and analysts say the ETA's ceasefire is a result of the pressure generated by a recent police crackdown that has netted the group's top leader and extended into France and Portugal. But the government statement today dimmed hopes that an end to the ETA's violent separatist campaign is around the corner.
The ETA, which has sought an independent Basque state in northern Spain and southwestern France for about 50 years, released a video Sunday that claimed the group had decided to enact a ceasefire months ago. In the video, broadcast by the BBC, three masked members sit in front of an ETA flag while one of them says the group will end armed actions. The statement defended the group's use of violence but said the ETA now wants to find a democratic solution to the conflict and is seeking talks with the Spanish government. The group has killed more than 850 people since beginning its campaign of car bombings and shootings, and the US and the EU regard it as a terrorist organization.
Spanish Interior Minister Alfredo Perez Rubalcaba quickly put the idea of dialogue to rest on Spanish television Sunday. CNN reports that the Minister said the ETA statement fell short of the government's preconditions for talks. The government demands the ETA decommission all weapons and permanently renounce violence as a first step. .
---