Iran to release US hiker Sarah Shourd once $500,000 bail is deposited
(Read article summary)
US hiker Sarah Shourd, one of three American hikers detained in Iran for more than a year on espionage charges, will be released as soon as $500,000 bail is deposited, a top Iran prosecutor said Sunday.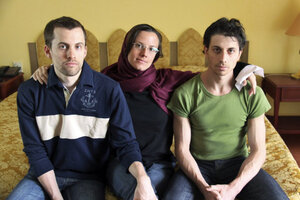 AP/File
• A daily summary of global reports on security issues.
Iran said on Sunday – for a second time – that it is ready to release one of the three US hikers who have been detained for more than a year in the Islamic Republic on espionage charges.
"Sarah Shourd, the US spy, can be released on bail of $500,000," Tehran prosecutor Abbas Jafari-Dolatabadi was quoted in Iran's state-run Fars news agency as saying on Sunday, reports Bloomberg.
"Based on reports and the approval of the relevant judge about the sickness of [Ms. Shourd], her detention was converted to $500,000, and if the bail is deposited, she can be released," Jafari-Dolatabadi was quoted in the official IRNA news agency, according to Al Jazeera.
Iran had first announced on Thursday that Shourd, the only woman in the group of the three detained US hikers, would be released on Saturday, but then canceled the announcement on Friday, saying that her legal issues were not yet resolved, CNN reports.
The charges against her fellow two male hikers still stand, according to Iran's Press TV.
News of Shourd's impending release comes as Iran is responding to mounting international criticism on many issues and a fresh round of sanctions for its nuclear program.
---