US hiker Sarah Shourd returns to America after more than a year in jail in Iran
(Read article summary)
US hiker Sarah Shourd's arrival in the US coincides with that of Iranian President Mahmoud Ahmadinejad, who says the US should now release Iranians it has detained.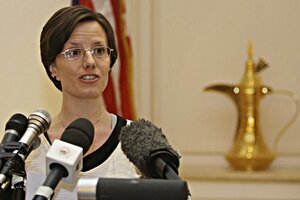 Kamran Jebreili/AP
• A daily summary of global reports on security issues.
Sarah Shourd, the detained American hiker released last week on $500,000 bail after nearly 14 months in an Iranian jail, is set to give a news conference this afternoon in New York City on her first day back in the United States. Her remarks will coincide with Iranian President Mahmoud Ahmadinejad's arrival in the city for the United Nations General Assembly.
Ms. Shourd was released on concerns about her health and the need for medical care. Her two fellow hikers, Shane Bauer and Josh Fattal – who were also apprehended by Iranian authorities in July of 2009 near the Iran-Iraq border – remain in detention with few signs from Iran that the two men will soon be considered for bail.
Iran has charged them with espionage, with authorities claiming that they had crossed into Iranian territory illegally, though that is now disputed, as The Christian Science Monitor reported.
---