Iran blames 'terrorist attack' on Kurdish separatists
(Read article summary)
A bombing in Iran Wednesday at a military parade left at least 10 people dead. Iranian officials have accused Kurdish separatists, who it says are backed by the US, for carrying out the 'terrorist attack.'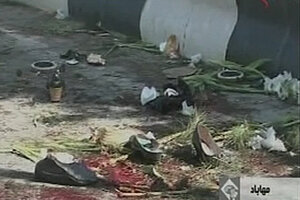 Al Alam via APTN/AP
• A daily summary of global reports on security issues.
Tensions in Iran's restive Kurdish region are likely to escalate after a bombing there Wednesday left at least 10 people dead and dozens wounded. No one has claimed responsibility yet, but officials are calling it a "terrorist attack." At least one Iranian leader has implied that Kurdish separatists may have been involved, but no official charges have been made.
The bomb detonated in the city of Mahabad during a military parade to showcase the nation's might. The event was part of Iran's Sacred Defense Week, a commemoration of the 1980-88 Iran-Iraq War, and according to Iran's state media, the blast killed mostly women and children, including a 5-year-old child and the wives of two Iranian military commanders. The bomb was reportedly hidden in a tree near the seating area for high-ranking military officials.
The provincial governor, Vahid Jalalzadeh blamed the attack on "counter-revolutionaries," a reference to Kurdish separatist groups such as the Iranian wing of the Turkey-based Kurdistan Workers Party (PKK). In a report by Press TV he added that these groups "have always carried out such brutal acts to take revenge on the people of Mahabad...."
---
Follow Stories Like This
Get the Monitor stories you care about delivered to your inbox.