Pakistan will fight Aafia Siddiqui's sentencing in US
(Read article summary)
Pakistan's prime minister announced Friday that he will work for the release of Aafia Siddiqui, a Pakistani woman convicted of attempted murder by the US and believed to have ties to Al Qaeda.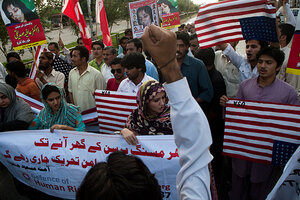 B.K.Bangash/AP
• A daily summary of global reports on security issues.
Pakistan's prime minister said Friday he will fight for the release of Aafia Siddiqui, the Pakistani scientist sentenced Thursday in New York to 86 years in prison for trying to shoot American soldiers in Afghanistan.
In a speech to parliament, Yousuf Raza Gilani called Ms. Siddiqui "the daughter of the nation." She is widely seen as innocent in Pakistan, and some Pakistanis took to the streets to protest her sentence Friday.
Mr. Gilani said he had already campaigned for Siddiqui's release, and would continue to do so, reports the Associated Press.
"We all are united, and we want the daughter of the nation to come back to Pakistan," he told parliament, which unanimously adopted a resolution demanding Siddiqui's repatriation.

"I fought for her, my lawyer fought for her and now I will take up this matter on a political level," he said.
Siddiqui was convicted of attempted murder in February for grabbing a rifle and shooting at US interrogators while she was detained by US forces near the Afghan city of Ghazni in 2008. The US says she was carrying bomb-making instructions and a list of New York City landmarks when she was arrested. As the Monitor reports, Siddiqui was missing for five years before her arrest, and the details of that time are murky.
---