Eyeing Iran, US details $60 billion arms sale to Saudi Arabia
(Read article summary)
Israel is unlikely to object to the arms sale of up to 84 new F-15s and 1,000 'bunker-buster bombs' to Saudi Arabia that analysts say is meant to counter Iranian influence in the Middle East.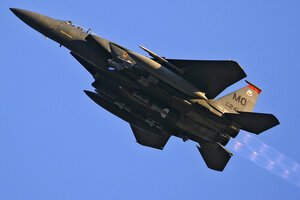 Bob Strong/Reuters/File
• A daily summary of global reports on security issues.
The US State Department officially announced Wednesday plans to sell up to $60 billion in advanced military aircraft to Saudi Arabia, in what experts call an effort to bolster regional powers against Iran.
The Wall Street Journal, which broke details of the sale in early September, reports the largest-ever US overseas arms deal will include authorization for the Saudis to purchase up to 84 new F-15s and upgrades to Saudi Arabia's existing fleet of 70 F-15s, as well as new helicopters and other weapons.
While the arms sale has been known about for months and been under negotiation since 2007, Wednesday's announcement revealed that it would include up to 1,000 one-ton bunker-buster bombs, which would "enhance the capability of Saudi Arabia's air force to bomb hardened bunkers and tunnels, such as those that the West believes are used by Iran to hide nuclear and ballistic missile programs," reports the Journal.
It is Iran's long-suspected drive to acquire nuclear weapons – Tehran maintains its nuclear ambitions are peaceful – that underpin the massive arms sale to Saudi Arabia. The Christian Science Monitor reported in September that the deal is meant to contain Iran as it develops its nuclear capabilities.
---