Swiss Embassy attack in Athens follows discovery of six Greece 'parcel bombs'
(Read article summary)
The Swiss Embassy attack came after authorities discovered six Greece 'parcel bombs' addressed to French President Sarkozy and foreign embassies across Athens.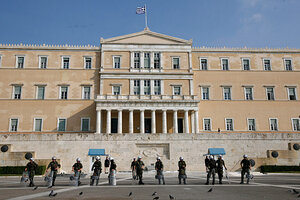 Alkis Konstantinidis/AP
• A daily summary of global reports on security issues.
So-called "parcel bombs" exploded today in the compounds of the Swiss and Russian embassies in Athens, injuring no one, according to the Associated Press. They came a day after another parcel bomb, which was addressed to the Mexican Embassy in Greece, exploded in the offices of an Athens courier company.
The explosion Monday injured one female worker and led police to two suspected culprits standing at a bus stop near the building. Aged 22 and 24, the men were arrested holding two more parcel bombs addressed to French President Nicolas Sarkozy and the Belgian Embassy in the Greek capital, reported The Canada Press.
A sixth parcel bomb addressed to the Dutch Embassy was discovered Monday by police at the offices of ACS couriers, also in the neighborhood of Pagrati. And yet a seventh and eighth parcel bomb, addressed to the Bulgarian Embassy and Chilean Embassy respectively, were detonated today in controlled explosions, reported BBC News.
---