Is France right that Yemen bomb was defused 17 minutes before detonation?
(Read article summary)
International officials in several countries doubt the veracity of a French claim that one of the bombs involved in the Yemen bomb plot was defused only 17 minutes before it was set to explode.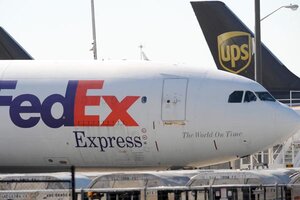 Erik S. Lesser/AP Photo/File
• A daily summary of global reports on security issues.
Security officials in several countries dismissed a statement by France's Interior Minister Brice Hortefeux that one of the bombs mailed from Yemen to the United States may have been defused only 17 minutes before it was set to go off.
The question of when the bombs were scheduled to go off is critical to understanding the attackers' intent. Determining the scheduled detonation time will allow investigators to figure out whether the bombs were meant to blow up the synagogues they were addressed to in Chicago or explode mid-flight, potentially in American airspace.
"There were parcel bombs from Yemen heading for the United States, and I can tell you, for example, that one of these parcels was disarmed 17 minutes before the planned explosion," Mr. Hortefeux said in an interview Thursday with France 2 television reports Agence France-Presse.
---