Gates: Military force is not the only way to deter Iran
(Read article summary)
US Defense Secretary Robert Gates said Monday that American diplomatic and economic efforts to halt Iran's nuclear program need more time, rebuffing Israel's call for military force.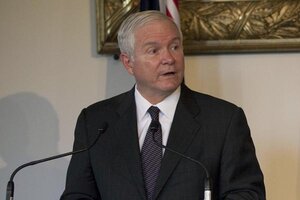 Evan Vucci/AP Photo/Pool
• A daily summary of global reports on security issues.
US Defense Secretary Robert Gates said on Monday that the threat of force was not the only way to deter Iran from pursuing its nuclear program.
The comments, made as Gates was traveling in Australia, were seen as a rejection of Israeli Prime Minister Benjamin Netanyahu's statement yesterday in Washington that Iran could only be deterred from making nuclear weapons by the threat of military force.
Gates's statement highlights the gap between the US and Israeli governments on how hard a line to take on Iran, even as a new round of negotiations for a nuclear fuel-swap deal looks set to take place in Turkey this month.
Both countries aim to convince Iran to halt its nuclear program. But Israel has been pressing for tougher measures against Tehran – including the threat of military action. The White House, on the other hand, wants to give economic sanctions more time to work.
---