Germany heightens security on 'concrete indications' of terror attack
(Read article summary)
'We have cause for concern, but no reason for hysteria,' German Interior Minister Thomas de Maizière said today, adding that the tip-off came from a 'foreign partner,' reportedly the US.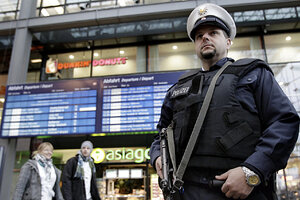 Michael Sohn/AP
• A summary of global reports on security issues.
Germany is increasing security throughout the country, particularly in airports and train stations, on the basis of "concrete indications of a series of attacks planned for the end of November," Interior Minister Thomas de Maizière said today.
Dr. Maizière told citizens to be ready for a "visible police presence," which Agence France-Presse reported was already apparent today as "machine gun-toting police patrolled German stations and airports ... there could also be tighter checks on the external borders of the European Schengen visa-free travel zone."
The tip-off about the potential attack came from a "foreign partner" and comes two weeks after Saudi Arabia helped Western authorities foil a bombing attempt by Al Qaeda in the Arabian Peninsula (AQAP). The Yemen-based group concealed bombs inside computer-printer ink cartridges destined for Chicago synagogues and shipped in FedEx and UPS planes. The bombs were discovered in Britain and Dubai on Oct. 29. One of the planes passed through Germany's international airport on Cologne with the lethal cargo undetected.
---