Historic Somali piracy trial in US wrapping up as German one opens
(Read article summary)
The Somali piracy trials, the first in centuries, have shed light on counterpiracy efforts. But some say the trials will not deter pirates, who have hijacked 37 ships in 2010 alone.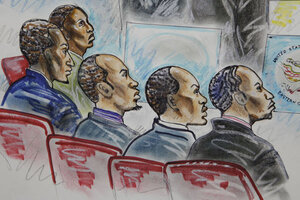 Alba Bragoli/AP Photo
• A summary of global reports on security issues.
The first piracy trial in the US since the Civil War is nearing a conclusion this week, as Germany's first such trial in hundreds of years opens.
The trials add legal heft to multinational efforts to curb Somali pirates that have hijacked 37 ships, taken 700 hostages, and killed or hurt 12 people this year alone. But some experts doubt such trials will be much of a deterrent.
The trial in America this month has offered a rare glimpse into the US Navy's counterpiracy operations as well as the murky world of Somali pirates, who have plagued one of the world's busiest shipping lanes for years.
Five Somali men are standing trial in Norfolk, Va., on plundering, weapons, and 12 other charges for their failed April 1 attack on a US Navy ship disguised to look like a cargo freighter.
The five men's defense attorneys have argued that they were "innocent fishermen who were abducted by pirates and forced to fire their weapons at the ship," according to the Associated Press. Their case will go to jurors for a decision after today's closing arguments. If found guilty, they face life in jail, AP reported.
---