Iran: We can make our own 'yellowcake' uranium now
(Read article summary)
One day before starting a new round of talks with world powers in Geneva, Iran announced Sunday that it had mined its own uranium to be used to make nuclear energy – or nuclear weapons.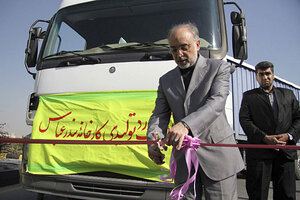 HO/Fars News/Reuters
Iran announced on Sunday that its entire nuclear fuel cycle is now self-sufficient.
With two-day talks beginning in Geneva tomorrow between six world powers and Iran, Iranian leaders say they want to deliver the message that the nuclear program will progress even with international sanctions.
Iran's top atomic chief and vice president Ali Akbar Salehi said on Sunday that for the first time the Islamic Republic had delivered uranium mined domestically to an Iranian processing unit.
Iran had bought "yellowcake," uranium concentrate powder, from South Africa in the 1970s. But Reuters notes that analysts in the West say Iran may be close to depleting this supply.
"The West had counted on the possibility of us being in trouble over raw material but today we had the first batch of yellowcake from Gachin mine sent to Isfahan [conversion] facility," Salehi said on state TV, Agence France-Press reports.
"No matter how much effort they put into their sanctions ... our nuclear activities will proceed and they will witness greater achievements in the future," he said, according to the Associated Press.
---