Australia's Kevin Rudd: WikiLeaks founder Julian Assange not responsible for cable release
(Read article summary)
Australian Foreign Minister Kevin Rudd said the Americans who gave the cables to WikiLeaks founder Julian Assange are to blame, not Assange. Assange could be extradited to Sweden, where he faces rape allegations.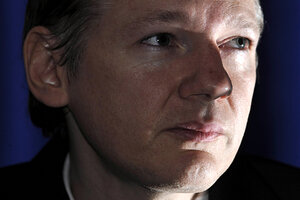 Lennart Preiss/AP/File
• A daily summary of global reports on security issues.
Australia's foreign minister Wednesday blamed the US for the leak of some 250,000 classified diplomatic cables, saying the attempts to blame or prosecute Australian native and WikiLeaks founder Julian Assange for the leak are misguided.
His comments come as Mr. Assange, who was arrested in Britain Tuesday on rape and sexual molestation allegations in Sweden, was denied bail. He is preparing to fight extradition to Sweden next week for questioning about the allegations.
Swedish authorities say that case is unrelated to his release of secret documents that have embarrassed the US and world leaders. US officials have said they are investigating whether to prosecute Assange.
Australian Foreign Minister Kevin Rudd said those efforts are mistaken. "Mr. Assange is not himself responsible for the unauthorized release of 250,000 documents from the US diplomatic communications network. The Americans are responsible for that," said Mr. Rudd, according to Australia's ABC News. "The bad people in this little exercise are the people who gave the information to him, because they're the people who breached the trust. They deserve to be chased and prosecuted."
---