British government could be next target for hackers defending WikiLeaks
(Read article summary)
The loose collection of hackers known as Anonymous has threatened to attack government websites if the British police extradite WikiLeaks founder Julian Assange.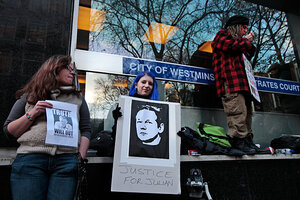 Lefteris Pitarakis/AP
• A daily summary of global reports on security issues.
The cyber army of hackers supporting WikiLeaks has set its sites on the British government. The group is threatening to attack certain government websites if British police extradite WikiLeaks founder Julian Assange to Sweden where he is wanted for alleged sexual assault.
The loose association of hackers, which calls itself Anonymous, has this week already crashed the websites MasterCard, Visa, and the Swedish government by flooding their websites with millions of fake visitors. MasterCard and Visa drew Anonymous's wrath for refusing to continue processing payments for WikiLeaks donations.
It remains unclear what British government websites might come under attack. Gregg Housh, the unofficial spokesman for Anonymous, told The Daily Telegraph that Anonymous "will go after the weakest links, because they want to see results. They will probably test a few sites and then decide."
---
Follow Stories Like This
Get the Monitor stories you care about delivered to your inbox.