Assange says he will be 'true to his ideals' as he appears in court
(Read article summary)
WIkiLeaks founder Julian Assange gave a statement through his mother Tuesday that he would stand strong as he made his second court appearance on allegations of sexual misconduct.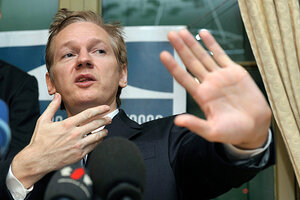 Elizabeth Cook-pa/AP
• A daily summary of global reports on security issues.
WikiLeaks founder Julian Assange today issued his first public statement since being detained in London. "My convictions are unfaltering," he wrote in a statement released through his Australian mother. "I remain true to the ideals I have expressed. This circumstance shall not shake them."
He also addressed the large finance companies that have given up on transferring donations to WikiLeaks. "We now know that Visa, MasterCard, PayPal, and others are instruments of US foreign policy. It's not something we knew before," he said, according to Reuters. Mr. Assange's supporters launched cyberattacks on the websites of those companies last week in retaliation for their refusal to process WikiLeaks donations.
His comments come as he is scheduled to appear in London court today in an attempt to win bail since his detention a week ago on allegations in Sweden of non-consensual sex with two WikiLeaks volunteers in August. The British district judge who heard his plea last week denied him bail on the grounds that he would be a flight risk, the Telegraph reported.
---