Suicide bombing outside Iran mosque kills dozens
(Read article summary)
The attack in southeastern Iran came as Shiites commemorated Ashura, one of the most important holidays of the year for Shiites. At least 38 were killed and more than 50 were wounded.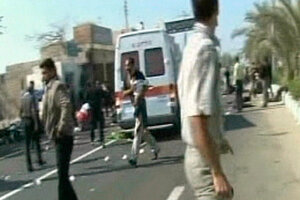 Press TV via Reuters TV/Reuters
• A daily summary of global reports on security issues.
A suicide bombing outside a mosque in southeastern Iran killed at least 38 people Wednesday as worshippers observed an important Shiite holiday.
No group immediately claimed responsibility for the attack, which took place in the city of Chabahar in Iran's Sistan-Baluchistan Province. But it is likely to be blamed on Jundallah, a Sunni and ethnic Baluchi militant organization responsible for multiple attacks in the province, which has a significant Sunni population in majority-Shiite Iran.
The attack came as Shiites were commemorating Ashura, an emotionally charged holiday marking the death of the third Shiite imam – Hussein, the grandson of the prophet Mohammed. The final day of Ashura is Thursday.
Agence France-Presse reports that a suicide bomber blew himself up in a city square outside the Imam Hussein mosque as worshippers were participating in a procession. The explosion wounded at least 50 people, and the death toll could rise.
Chabahar's governor, Ali Bateni, told state news agency IRNA that there were two attackers, but only one explosion. He also said that the "main culprit" behind the bombing has been arrested.
---