British official: 'necessary to take action' now against 12 men suspected in terror plot
(Read article summary)
British authorities rounded up 12 men Monday morning suspected in a terror plot. Police said the arrests are not connected to the Dec. 11 suicide bombing in Sweden.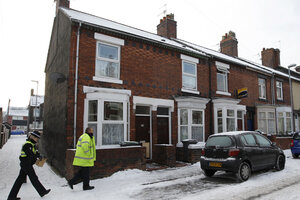 Darren Staples/Reuters
• A daily summary of global reports on security issues.
British authorities arrested 12 men of Pakistani descent early Monday morning in what was described as a major operation to disrupt a terror plot.
The men are being held on suspicion of the "commission, preparation, or instigation, of an act of terrorism in the UK," according to the police. The arrest comes after a suicide bombing in Sweden on Dec. 11, Germany's warning on Nov. 17 of "concrete indications" of a series of looming attacks, and travel alerts in October from the US and Japan of terror threats across Europe.
Britain's terror level threat is currently "severe," the second-highest rating, which warns of a high likelihood of attack. Today's arrests were carried out by unarmed officers, which the Associated Press said suggested that police did not believe an attack was imminent from the men aged between 17 and 28.
---