South Korea launches fresh round of military drills as North Korea seems to soften
(Read article summary)
South Korea launched a planned round of multi-day military exercises Wednesday, while rebuffing the North's recent conciliatory gestures.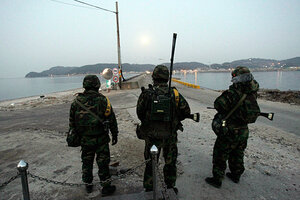 Ahn Young-joon/AP
• A daily summary of global reports on security issues.
South Korea launched fresh military drills Wednesday, just days after it held live-fire military exercises despite North Korean threats of retaliation.
The naval exercise launched Wednesday, and Army and Air Force exercises scheduled for Thursday, come as the US dismissed a pledge from the North to allow inspectors to return to its nuclear facilities.
The South's Navy began a three-day firing drill in the waters off the east coast of the peninsula, using warships and antisubmarine helicopters, reports The Korea Times (Agence France-Presse reports that the drill will last four days). The joint Army and Air force exercises are scheduled to take place at a firing range just 20 kilometers (12 miles) from the border with North Korea, and involve some 800 troops and fighter jets, attack helicopters, and tanks.
The Korea Times calls the Army and Air Force drill the "largest ever." The exercises are conducted annually, but an Army spokesman said the drill was held on a larger scale this year. The New York Times, however, reports that a South Korean defense official denied the media reports characterizing the drill as larger than ever before, and said it was "ordinary."
---
Follow Stories Like This
Get the Monitor stories you care about delivered to your inbox.