Mumbai on edge after police say militants plan terror attack
(Read article summary)
Mumbai police are on the lookout for four men, allegedly Lashkar-e-Taiba militants, who have entered the city and are suspected of plotting a terror attack.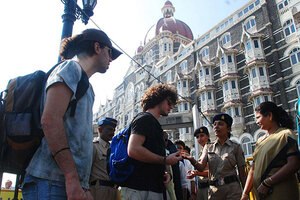 Reuters
• A daily summary of global reports on security issues.
India's largest city is once again on high alert after police announced that four men believed to be members of Lashkar-e-Taiba (LeT), a Pakistani militant group, snuck into the financial capital of Mumbai. The men are believed to be plotting a terror attack that will take place sometime between Christmas and the new year, reports Al Jazeera.
This is the second time in four months police have warned that alleged terrorists have entered the city and may be plotting attacks. Since the November 2008 attack in Mumbai, security has been tight in the city, but there has been much tension during the last year in particular.
While security experts say it is impossible to completely protect a city as large and sprawling as Mumbai, The New York Times reports that security throughout the city has been increased in public places, five-star hotels, and public transportation stations, especially during President Obama's visit in November. The 2008 attack left a deep impression on India's security mindset and strained relations with Pakistan.
Indian police have released an image of one of the alleged terrorists, Walid Jinnah. No images of the other three wanted men – Abdul Karim Mussa, Noor Abdul Ilahi, and Mafooz Alam – have yet to be released, reports India's Daily News and Analysis.
---