South Korea says it will prepare for unification with North
(Read article summary)
South Korea's statement that it intends this year to begin preparations to reunify the Koreas will likely irk China and the North, which could consider it a provocation.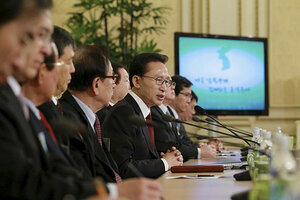 Blue House/Reuters
• A daily summary of global reports on security issues.
South Korea's Unification Ministry said Wednesday it would shift focus next year from pursuing inter-Korean talks to preparing for unification with North Korea.
That announcement is likely to raise the ire of the North and its ally China. It comes as South Korean President Lee Myung-bak said that the South must resolve the problem of the North's nuclear program through six-party talks, even while stressing the importance of military readiness.
Tensions have been high on the Korean peninsula. The North shelled the South's Yeonpyeong Island last month, killing four people, including two civilians. Before that, the South accused the North of torpedoing a warship in March, killing 46 sailors. The South's military drills in recent weeks have provoked increasingly strong rhetoric from the North, which is in the process of a power change.
The Unification Ministry's new strategy came in a policy report for 2011 delivered to the president. The Financial Times reports that Unification Minister Hyun In-taek said the South would work to improve conditions for ordinary North Koreans as it prepares for reunification. The two Koreas have technically remained in a state of war since the signing of an armistice in 1953.
---