Britain says it will support military intervention in Ivory Coast
(Read article summary)
British Foreign Secretary William Hague said that his country will support UN-sanctioned military intervention as fears of the tension devolving into genocide and civil war grow.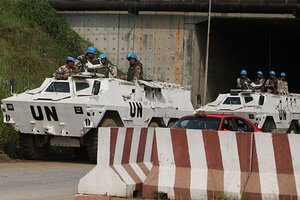 Sunday Alamba/AP
• A daily summary of global reports on security issues.
With Ivory Coast's defeated incumbent president still refusing to step down, British officials have said their country would support the use of United Nations-sanctioned military force to resolve the situation.
While William Hague, the United Kingdom's foreign secretary has said the UK is not about to deploy British troops to the African nation, they are taking a number of other diplomatic measures to bring an end to the political stand-off, reports Britain's Press Association.
The race between President-elect Alassane Ouattara and incumbent President Laurent Gbagbo was tight, and President Gbagbo refuses to leave office, even though Ouattara is recognized as the victor by the international community. Gbagbo still maintains control of the nation's armed forces and Mr. Ouattara and his supporters are currently trapped in a hotel.
---