Coptic church officials on alert around the world
(Read article summary)
Coptic church officials from Europe to Australia, whose churches are designated by an Islamist website as targets, have become concerned about fresh attacks this weekend.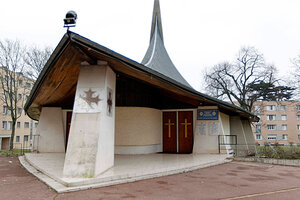 Charles Platiau/Reuters
• A daily summary of global reports on security issues.
The Coptic church targeted in the New Year's attack in Alexandria, Egypt, was found on a list of targets that includes Coptic churches in Western Europe, the US, and Australia, prompting fear that some of those other churches may be the next target.
The list was found on Shumukh-al-Islam, an Islamist website linked to Al Qaeda, CNN reported. It first appeared on Dec. 2, but churches were not alarmed until after the attack in Egypt. There is concern that there will be more attacks on or around Jan. 7, when the Copts celebrate Christmas.
The website called on Muslims to assist to assist with attacks on those churches, the Herald Sun in Australia reports.
A message announcing "bomb attacks against churches during Christmas ... when they will be most crowded" was posted alongside the list of would-be targets.

"Get up and give up sleep," said the message.

"This is an important notice on bomb attacks against churches during Christmas," it said.

It urged "every Muslim who cares about the honor of his sisters to bomb these churches during Christmas celebrations, when they will be most crowded".
European countries home to churches included on the list have ratcheted up security in varying degrees.
---