US, South Korea want to push bilateral talks with North
(Read article summary)
US envoy Stephen Bosworth and South Korea's chief nuclear negotiator appear to be pressing for greater North-South dialogue before returning to the six-party talks.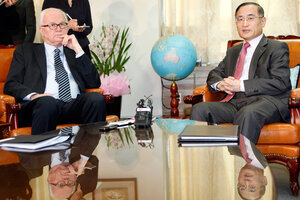 Truth Leem/AP
• A daily summary of global reports on security issues.
The United States and South Korea agreed on Wednesday to continue pressing the North to show its commitment to denuclearization before returning to the six-party talks.
The agreement came during a meeting between US special envoy to North Korea Stephen Bosworth and Seoul's chief nuclear negotiator Wi Sung-lac in the South Korean capital on Wednesday, according to local media. While China and North Korea have been calling for a return to international nuclear talks, Bosworth's visit suggests that smaller, bilateral meetings are needed before the six-party talks reopen.
"The South and the US shared an understanding that future six-party talks should not be talks for talks' sake and, more than anything else, that the North should show sincerity about denuclearization," a senior South Korean official who requested anonymity told Seoul's Yonhap News Agency at the conclusion of Bosworth's meeting. The official added that both sides concluded that improvement in inter-Korean relations was essential for the six-party talks to move forward.
---