China's stealth jet is no cause for alarm: US
(Read article summary)
The day after a Chinese newspaper published photos of what is supposedly a prototype of China's first stealth jet, US officials said they are not worried about the development.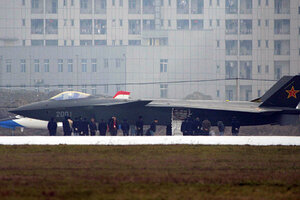 Kyodo News/AP
• A daily summary of global reports on security issues.
The leak Wednesday of photos of a what appears to be a prototype of China's first stealth fighter jet attracted immediate attention worldwide, but many note that China is years away from moving that jet into service.
Pictures of the jet and accompanying articles appeared on the front page of the Chinese daily Global Times on Wednesday. The lack of a government suppression of the disclosure lends credence to China's reports, the Associated Press reports.
The Global Times did not comment on the authenticity of the pictures, but since the government wields extensive control over state media, the report's appearance and the fact that censors have not removed images from websites suggest a calculated move to leak the information into the public sphere.
That in turn would reflect the growing confidence of the traditionally secretive People's Liberation Army, which is pushing for greater influence and bigger budgets.
US defense officials don't appear worried.
"It is not of concern that they are working on a fifth-generation fighter," since the Chinese are "still having difficulties with their fourth-generation fighter," Marine Col. Dave Lapan, a Pentagon spokesman, told the Associated Press.
---