Australia braces for fresh wave of flooding in Brisbane
(Read article summary)
Brisbane prepares for fresh flooding and another town recovers from an 'inland tsunami,' as Australia waits for a reprieve from weeks of rain and flooding.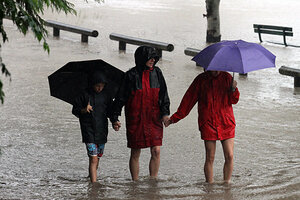 Tertius Pickard/AP
• A daily summary of global reports on security issues.
A new wave of flooding is expected to bear down on Brisbane, Australia, likely bringing further destruction to an area already slammed with perpetual rains in the past month. The Brisbane River is expected to top the high-water mark from the devastating 1974 flood, overwhelming the dam built to prevent a repeat of such flooding.
As the rains continue and river levels around the region rise, authorities are urging residents to remain calm as they deal with the worst flood disaster for Australia in recent memory, according to a report from the newspaper The Australian. Authorities believe there have been 30 deaths and 78 people missing since the flooding began in southeast Queensland.
Queensland Premier Anna Bligh is calling on residents to band together to get through the flood crisis, and to look out for their friends and neighbors. "If you live on high ground in Brisbane now is the time to be reaching out to friends and offering help, and offering where necessary a bed for the night, over the coming two to three days," she said according to Australian Broadcasting Corporation (ABC).
---