Tunisia protesters defy curfew in capital
(Read article summary)
The protests in Tunisia over high unemployment rates continued in the capital overnight, with another death and a call for a strike as government appeasement efforts failed.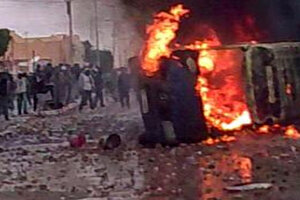 AP Photo
• A daily summary of global reports on security issues.
Protesters defied a curfew in Tunisia's capital overnight, continuing to clash with police in a wave of unrest that has gripped the nation for three weeks and shows no signs of abating.
One man was reported killed in the fighting overnight, the first to die in Tunis since the protests reached the capital Wednesday. Sparked by despair over high unemployment rates, the riots have quickly come to embody the population's deep anger over government corruption and the lack of political freedom as well. President Zine El Abidine Ben Ali has ruled one of the most repressive police states in the region for 23 years, but many are now questioning how much longer his rule will last if he is unable to stop the unrest.
Reuters reports that despite a curfew issued in Tunis yesterday, protesters in at least two neighborhoods ransacked buildings and threw rocks at police, who used tear gas and gunshots fired into the air to beat back the crowds. Witnesses reported that a young man died after being shot in the head, and protesters gathered outside his home.
The government says that 23 people have died during the protests, but rights groups say there have been at least 35 to 50 deaths. Mr. Ben Ali has called the protesters terrorists, and government officials accuse a minority of extremists of hijacking protests and acting violently. They say that police have acted in self defense.
---