Somali pirates lose battle to South Korean commandos, but who's winning war?
(Read article summary)
South Korean commandos rescued a 21-man crew from Somali pirates. The renegade gangs captured more hostages in 2010 than in any other year on record, and 22 incidents have already taken place in 2011.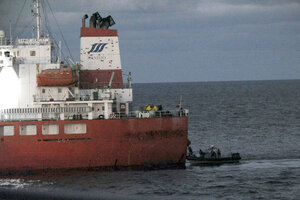 South Korean navy via Yonhap/AP
• A daily summary of global reports on security issues.
South Korean commandos battled Somali pirates today on the Arabian Sea, storming a captured cargo ship and rescuing the 21-man crew. The mission was a boon to an embattled South Korean president and a rare setback for the pirates amid a surge in attacks.
Pirates had captured the South Korea-owned Samho Jewelry on Jan. 15 while it was traveling between Sri Lanka and the United Arab Emirates nearly 800 miles from the coast of Somalia. After following the ship for days, a South Korean Navy destroyer dispatched a special forces unit to rescue the crew.
Eight alleged pirates were killed in the rare rescue mission, and the Korean boat captain sustained noncritical injuries.
"Our special forces stormed the hijacked Samho Jewelry earlier today and freed all hostages," said Colonel Lee Bung-woo, a spokesman for the South Korean joint chiefs of staff, in an article by The Guardian. "During the operation, our forces killed some Somali pirates and all of the hostages were confirmed alive."
---
Follow Stories Like This
Get the Monitor stories you care about delivered to your inbox.