'Liberation caravan' keeps pressure on Tunisia's old guard while Yemen sees copycat protests
(Read article summary)
While Tunisians demand departure of former president's allies in a 'liberation caravan', Yemeni activists launch copycat protests in Sanaa.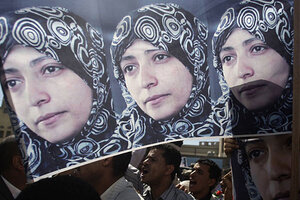 Khaled Abdullah/Reuters
• A daily summary of global reports on security issues.
Protests continue to roil Tunisia as hundreds broke a nighttime curfew to march in a "liberation caravan" to demand the immediate resignation of the former president's allies from the interim government. And in Yemen, journalists protested the detention of the organizer of Tunisia-inspired protests in the Yemeni capital of Sanaa.
Al Jazeera reports that the caravan, consisting of several hundred Tunisians, launched on Saturday night from the region where Mohamed Bouazizi set himself on fire in the event that triggered the Tunisian protests. The protesters then traveled on foot and by bus to the capital of Tunis, where they gathered in front of the interior ministry.
BBC News reports that the protest is seeking the resignation of Prime Minister Mohamed Ghannouchi, a former ally of deposed President Zine al-Abidine Ben Ali.
---