Moscow terrorist attack blamed on airport security lapses
(Read article summary)
The terror attack at Moscow's Domodedovo Airport happened because of inadequate security measures, said Russian President Dmitry Medvedev.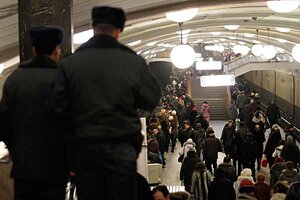 Ivan Sekretarev/AP
• A daily summary of global reports on security issues.
Russian President Dmitry Medvedev blamed airport security lapses for the suicide bombing that killed 35 people and injured up to 180 Monday at Moscow's Domodedovo Airport.
"Information from the crime scene indicates that there was just chaos; people could enter [the airport] from anywhere. Control was limited and was practically not directed at those who were meeting passengers," Mr. Medvedev said, in a statement published by RIA Novosti, Russia's state-run news agency.
Vladimir Markin, Russia's Investigative Committee spokesman, confirmed to the official news agency that the control system at the entryway to the airport was deficient.
"It has been established that the terrorist had no difficulties entering the arrival hall where the blast occurred as there was not an adequate control," Mr. Markin said.
---