Yemeni protesters fill streets, calling for president's ouster
(Read article summary)
The thousands of Yemenis who turned out to protest President Ali Abdullah Saleh's rule were met with counterprotests by government supporters.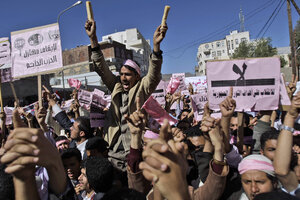 Hani Mohammed/AP Photo
• A daily summary of global reports on security issues.
Thousands of Yemenis protested in the streets of Sanaa today, on the heels of popular movements in Tunisia and Egypt. The protesters are calling for the ouster of President Ali Abdullah Saleh, a US ally who has been in power for 32 years.
"The people want a change in president," protesters chanted, according to Reuters, which estimated that 10,000 had shown up at Sanaa University and about 7,000 elsewhere in the city. "Look at Tunis and what it did. Yemen's people are stronger."
Mr. Saleh was reelected in 2006 for a seven-year term, but parliament's attempts to ease rules on presidential term limits has Yemenis worried that he will appoint himself for life, the BBC notes.
---