Islamist leader Rachid Ghannouchi returns to Tunisia. What's his next move?
(Read article summary)
Moderate Islamist leader Rachid Ghannouchi returned to Tunisia from exile Sunday, insisting that he's a democratic Islamist leader and that he will not run for office.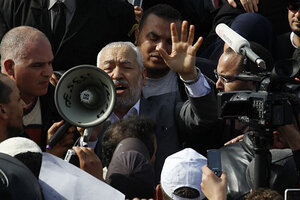 Zoubeir Souissi/Reuters
• A daily summary of global reports on security issues.
Rachid Ghannouchi says that he will not run for office, though his movement will enter democratic politics.

In the aftermath of the protests that toppled Tunisian President Zine al-Abdine Ben Ali and sparked upheaval across the Arab world, Tunisia's foremost Islamist leader returned to his homeland on Sunday after 22 years of exile.

Reuters reports that Rachid Ghannouchi, leader of the the Islamist movement Ennahda, flew from London to Tunisia Sunday, setting foot in his homeland for the first time since 1989, when Mr. Ben Ali exiled him. Mr. Ghannouchi said he and Ennahda plan to help build Tunisia's new democracy.
"Our role will be to participate in realising the goals of this peaceful revolution: to anchor a democratic system, social justice and to put a limit to discrimination against banned groups," Ghannouchi told Reuters a day before his return.

"The dictator has fallen and I want to be in the country," he said.
Ghannouchi was exiled by Ben Ali in 1989, two years after Ben Ali seized power. Ennahda, which experts call a moderate Islamist group, was the strongest opposition group at the time of Ghannouchi's exile, but did not play a significant role in the protests this month that led to Ben Ali's ouster.
Women leaders protest Ghannouchi's return
---