Tunisia struggles for stability and a fresh start as Egypt protest turns violent
(Read article summary)
Tunisia's interim government is facing growing pressure to purge security forces and the government of figures who were loyal to former President Zine El Abidine Ben Ali.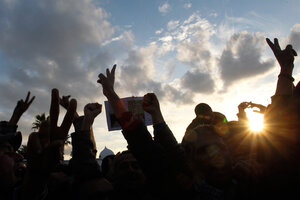 Christophe Ena/AP
While Egypt's protests are demanding much of the world's attention, Tunisia – the country whose uprising supposedly sparked Egypt's unrest – is working through a major political transition.
Interim Prime Minister Mohammed Ghannouchi sacked 30 top police officials Wednesday in an attempt to gain control of the country's security forces, which are filled with allies of ousted President Zine El Abidine Ben Ali. He also named several new security officials. The new director of national security, Admiral Ahmed Chabir, is removing Mr. Ben Ali's allies from key government positions, Agence-France Presse reported.
He also faces a challenge with police forces. A hundred thousand police officers had ties to Ben Ali's political party, making loyalty a potential issue. Purging the government of figures tied to Ben Ali is a key concern of the provisional government, which faced protests earlier this week by those unhappy with the number of Ben Ali loyalists still in government positions, Reuters reported.
---