In Algeria, police flood streets to prevent Egypt-style revolution
(Read article summary)
Egypt's revolutionary fervor has spread to Algeria, but protesters calling for the government's ouster were outnumbered three to one by police on Saturday.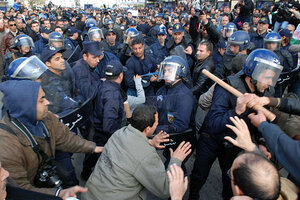 Sidali Djarboub/AP
• A daily summary of global reports on security issues.
Thousands of Algerian protesters marched amid massive police presence in their nation's capital Saturday to demand the government's ouster, echoing the events in Egypt that ended the decades-long authoritarian rule of former President Hosni Mubarak.
The Associated Press reports that some 10,000 protesters faced off against 30,000 riot police in the streets of Algers, according to estimates by protest organizers, although Algerian officials put the number of protesters at around 1,500.
AP reports:
"Protesters chanted 'No to the police state!' and 'Bouteflika out!' a reference to President Abdelaziz Bouteflika, who has led the nation since 1999.

The heavy police presence and barricades turned Saturday's 3-mile march into a rally at the First of May square. ...
'This demonstration is a success because it's been 10 years that people haven't been able to march in Algiers and there's a sort of psychological barrier,' said Ali Rachedi, the former head of the Front of Socialist Forces party. 'The fear is gone.' "
---