Libya corruption, cult of personality drive Qaddafi's grip on power: WikiLeaks cable
(Read article summary)
Libya leader Muammar Qaddafi has retained power for four decades by playing political rivals, including his sons, off one another, cables from the US ambassador to Libya reveal.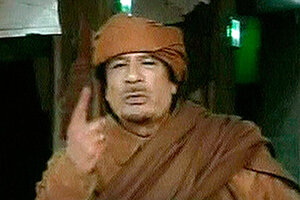 Libyan State Television/Reuters
• A daily summary of global reports on security issues.
Libyan leader Muammar Qaddafi is a skillful politician who has manipulated local rivals and his own sons so that he could remain in power, according to a series of US diplomatic cables on Libya, published this week by WikiLeaks. The cables describe Qaddafi's consolidation of power over the last four decades and reveal some of the challenges Libya will face if the embattled leader steps down.
The United States and Libya have had a rocky relationship in the past and Washington at one time had Libya listed as a state sponsor of terrorism. Ties began to improve in 2003 when Qaddafi agreed to give up Libya's nuclear weapon program, and three years later the US embassy in Tripoli was reopened.
Since then, US diplomats have been able to unearth some of the details of the workings of the Qaddafi government, in place now for more than 40 years. A cable dated Jan. 28, 2009 and written by Gene A. Cretz, the United States' first ambassador to Libya since 1972, suggests that Qaddafi is a micromanager who continues to be involved with the everyday work of the government:
---