UN Security Council hits Qaddafi with sanctions, war crimes investigations
(Read article summary)
The unanimous Security Council decision increases international pressure on Col. Muammar Qaddafi's regime in Libya as President Obama calls for Qaddafi to leave power immediately.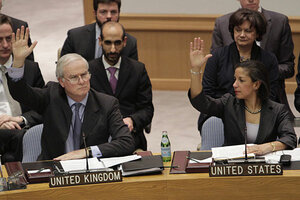 Mary Altaffer/AP
• A daily summary of global reports on security issues.
The United Nations Security Council voted Saturday to impose sanctions against Libyan leaders, including dictator Col. Muammar Qaddafi, and to refer them to the International Criminal Court for investigation of possible war crimes against civilians during the uprising in Libya. The UN sanctions came the same day as President Obama for the first time publicly called for Mr. Qaddafi to step down.

The New York Times reports that the Security Council's unanimous decision marked only the second time that the body voted to refer a UN member state to the ICC. The sanctions freeze the assets of and forbid travel by sixteen Libyan leaders, including Qaddafi and several members of his family. They also place an arms embargo on Libya and forbid any UN member state from transporting mercenaries to Libya. The sanctions compound the restrictions on Qaddafi, who had already seen Switzerland freeze his assets in Swiss banks on Thursday.
---