Oman protests intensify as Sultan struggles to appease demonstrators
(Read article summary)
Oman protests come with calls for economic improvements and political reform, but stop short of demanding removal of the Gulf state's Sultan Qaboos.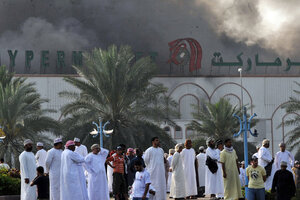 AP Photo
• A daily summary of global reports on security issues.
After avoiding the wave of protests sweeping the Middle East for months, Oman has entered its third day of continuous demonstrations. Local media is reporting that demonstrators have set fire to a supermarket, cars, a police station, houses, and the governor's residence amid protests calling for economic improvements and government reform.
The nation's ruler, Sultan Qaboos bin Said, has so far announced the creation of 50,000 new government jobs and an unemployment program that will pay job seekers $390 per month until they find work, reports CNN.
These concessions appear to have done little to quiet protesters, whose demands include an increase in power for the legislative body, although they have stopped short of calling for the resignation of Sultan Qaboos. The leader has so far replaced six cabinet members, the Guardian reports.
"We want new faces in the government and we have a long list of social reforms," Habiba al-Hanay, a 45-year-old civil servant, told the Guardian. "We just hope he will hear us and make changes."
---