Qaddafi's forces repelled in bid to retake western Libya city
(Read article summary)
An attack by Muammar Qaddafi's forces on Zawiyah, Libya, was turned back by opposition forces Monday. Neither side seems able to gain the upper hand.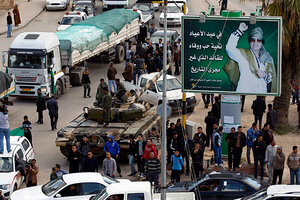 Chris Helgren/Reuters
• A daily summary of global reports on security issues.
Forces of Libyan leader Col. Muammar Qaddafi tried to retake a city near his capital stronghold but were repelled by opposition forces – a sign that neither side has enough power to overwhelm the other and that a long battle may lie ahead for control of Libya.
Col. Qaddafi has already lost control of the eastern half of the country, but both sides are battling for control of the western half, where the capital Tripoli is located. Qaddafi remains in control of Tripoli.
Al Jazeera reports that on Monday night, Qaddafi's forces attacked opposition-controlled Zawiyah, the closest city to Tripoli (about 30 miles away). The battle, which lasted six hours, ended with the rebels repulsing Qaddafi's forces, Al Jazeera reported.
"We will not give up Az-Zawiyah at any price,'' one witness said on Tuesday. "We know it is significant strategically. They will fight to get it, but we will not give up. We managed to defeat them because our spirits are high and their spirits are zero."
Qaddafi's forces, apparently the elite Khamis Brigade led by one of his sons, attacked from six directions, using the same weapons the opposition forces used to defend the city: tanks, machine guns, and anti-aircraft guns. Al Jazeera reports the fighting intensified after dark, and residents of the city are expecting another major battle.
---